I was assisting a fellow teacher by preparing some information on Eriugena and Aquinas for him. As I read about Eriugena, I was struck with a question for which I don't have an answer, and one with which he seemed to struggle. If God is infinite (meaning all that is), then what are we? If we are totally other (as we were created
ex nihilo
) does that not logically negate God being infinite (because there is something other than Him)? But if we are part of God, does that not mean pantheism?
I've included some selected readings, but, if you have time, it would probably be best to read all of the presented links (they're not too terribly long). I would love to know both your answer to the question and your take on what Eriugena had to say. For the record, many say he advocated
pan-en-theism
(God IN everything) rather than
pantheism
(God IS everything).
John Scotus Eriugena was a philosopher and theologian, born in Scotia (now Ireland), who stands outside the mainstream of mediaeval thought. He taught at the Court of Charles I, the Bald, in France, then supported Hincmar in the predestination controversy with his
De praedestinatione
(851, On Predestination), which the Council of Valence condemned as
pultes Scotorum
('Irishman's porridge'). He also translated into Latin and provided commentaries on the Greek writings of the theologians of the Eastern Church. His major work,
De divisione naturae
(c.865, On the Division of Nature), tried to fuse Christian and Neoplatonic doctrines, but his work was later condemned for its pantheistic tendencies.
Here is a selection from Irvine's
Notes on Eriugena
:
Creation is a theophany, but what is the nothing from which it was created, if it is nothing other than God? Since God transcends intellect God is duly nothing, so creation may be considered a divine process from nothing into otherness. God 'comes to be' in creation. The term of this process is that God be all in all, a motif Eriugena picks up from I Cor. 15:28.
Eriugena's account of the God-world relation is ultimately ambiguous. The world is created by God and so is other than God. The world is also eternal, for it is not outside God: its logos and primordial causes are in God, it participates in God, and God participates in it, and it will ultimately be assumed back into God when God will be all in all.
And several selections from the (comprehensive)
Stanford Encyclopedia entry
on Eriugena: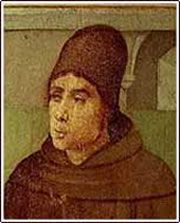 Attribution of being is subject to the dialectic of affirmation and negation. Eriugena returns in Book Three to give a very complex discussion of the meaning of '
ex nihilo
' in the concept of
creatio
ex nihilo
, which makes use of some of these modes of being and non-being, and, in general, these modes should be borne in mind when interpreting Eriugena's more overt metaphysical statements. Thus when Eriugena calls God 'nothing', he means that God
transcends
all created being, God is
nihil per excellentiam
('nothingness on account of excellence') or, as he puts it,
nihil per infinitatem
('nothingness on account of infinity'). Matter, on the other hand, is also called 'nothing' but it is 'nothing through privation' (
nihil per privationem
). Similarly, created things are called 'nothing' because they do not contain in themselves their principles of subsistence (Eriugena is here repeating St. Augustine's view that the creature, considered apart from God, is mere nothing).
Eriugena conceives of the act of creation as a kind of self manifestation wherein the hidden transcendent God creates himself by manifesting himself in divine outpourings or theophanies (I.446d). He moves from darkness into the light, from self-ignorance into self-knowledge. The divine self-creation or self-manifestation (I.455b) is, at the same time (or rather timelessly), the expression of the Word and hence the creation of all other things, since all things are contained in the Word. The Word enfolds in itself the Ideas or Primary Causes of all things and in that sense all things are always already in God:
...the Creative nature permits nothing outside itself because outside it nothing can be, yet everything which it has created and creates it contains within itself, but in such a way that it itself is other, because it is superessential, than what it creates within itself (Periphyseon, III.675c).
God's transcendent otherness above creatures is precisely that which allows creatures to be within God and yet other than God. Eriugena stresses both the divine transcendence above and immanence in creation. The immanence of God in the world is at the same time the immanence of creatures within God. Creatures however, as fallen, do not yet know that they reside in God. In cosmological terms, however, God and the creature are one and the same:
It follows that we ought not to understand God and the creature as two things distinct from one another, but as one and the same. For both the creature, by subsisting, is in God; and God, by manifesting himself, in a marvelous and ineffable manner creates himself in the creature... (Periphyseon, III.678c).
Elsewhere Eriugena's asserts that God is the 'essence of all things' (essentia omnium) and the 'form of all things' (forma omnium). In the thirteenth century, expressions such as these led to the accusation of heresy, i.e. that Eriugena is collapsing the difference between God and creation. It must be noted, however, that although Eriugena asserts the identity of God and creation, he explicitly rejects the view that God is the 'genus' or 'whole' (totum) of which the creatures are 'species' or 'parts'. Only metaphorically (metaforice, translative) can it be said that God is a 'genus' or a 'whole'. Assertions concerning the immanence of God in creation are always balanced in Eriugena's writings by assertions of God's transcendence above all things. God is both 'form of all things' and also is without form, formless. Since God cannot be said to be anything, God cannot be simply identified with any or every creature either.

Book Three discusses the nature of created effects and the meaning of 'creation from nothing' (creatio ex nihilo). The term 'nothing' has two meanings: it can mean 'nothing through privation' (nihil per privationem), or 'nothing on account of excellence' (nihil per excellentiam). The lowest rung in the hierarchy of being, unformed matter, is 'almost nothing' (prope nihil), or 'nothing through privation'. In contrast, God is non-being through the excellence of His nature which transcends all being. Since there is nothing outside God, 'creation from nothing' cannot mean creation from some principle outside God, rather it means: creation out of God's superabundant nothingness. God creates out of himself (a se) and all creation remains within him.

OK, that's enough. Let me know what you think.

A cartoon depicting a supposed exchange between Eriugena and Charles the Bald. The latter, having offended the former, follows by saying, "What is separates a sot from a scot?"


Eriugena replied, "Only a table."


Links:
-
The Mystery of God in John Scotus Eriugena
-
Soliloquy of Eriugena